Services
Specialized in the development of products, manufacture of molds and thermoplastics injection, Farede has experienced professionals and leading-edge technology to turn your project into high-quality products. Besides, it also provides maintenance, modification and reform of plastic injection molds.
Rather than meeting the needs, Farede focuses its efforts in order to overcome expectations and develop customized works, like accessories for motorcyclists, sports products, shoes, among others.
See the services developed by Farede.
Products development
For the development of products, the Farede's team works with the main software 
applications of the market, such as UNIGRAPHICS and CADCAN. Such programs 
make the whole process easier, since the first technical sketches to the layout 
finishing, according to the customers' technical standards and specifications.
After the briefing, it is possible to accurately determine all the measures and 
materials for the mold production. This planning is essential, because from the 
approved design, all the other stages, that means, technical drawing, modeling and 
milling, follow the guidelines defined in this project phase.
Prototypes: In order to have an assurance, view the product with real accuracy, we have developed a prototype for the project approval.
Molds Development
After defining and approving the layout, the next step is the development the product mold. At this moment, the pieces are produced for analysis by the customer. They are models, also referred to as proofs, which accurately represent the technical drawings in relation to colors and measures.
You have a perfect mold with differentiated finishing. Thus, you have the opportunity 
to decide on all the details prior to the large-scale production of your product, which is made 
with all the technical and professional support of Farede, which considers the 
best alternatives so that you can save time and money.
It's at that moment that all the final adjustments are made to the mold, 
like closing, cooling, injection channel, extraction, column, among others, so 
that the piece injection can be perfect.
Thermoplastics injection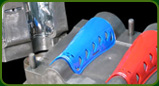 And the last project phase, the thermoplastics injection, is the phase of mold transformation into the end product. That means, after the development, adjustments and final approval, the model goes through the milling process until its definite version, where soon after it, the try out is performed, optimizing the results and certifying the maximum.
The Farede's competitive advantage is that the molds are produced according to high technological standards, as it has injectors with capacity of 80 up to 380 tons of closing, vertical and two-color injection. In addition to that, it only uses selected raw materials, like polystyrene, polypropylene, polyamide (Nylon), acrylic, among others, where it is possible to inject the pieces in any plastic material.